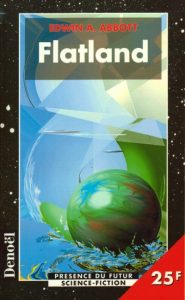 Flatland, a romance of many dimensions
© 1884 – Edwin A. Abbott
The story
Up, down… Here are two expression which doesn't occur in Flatland. To use them, we risk to lose our head, both literally and figuratively. Because if the inhabitants of this two-dimensional universe aren't afraid of the sky falling on their head, they detest the mad people and false prophets preaching the third dimension doctrine.
Yet, the narrator of this strange adventure, a very reasonable Square, is certain to have been visited by a Sphere, impossible thing for his fellow citizens who can only see a Circle. But don't laugh about their blindness. How would you react if we speak to you about the fourth dimension?
In my opinion
In my entourage, opinions are split about this book. Too mathematical for some of them. Completely crazy for others. Exhilarating for the rest.
For me, it's a masterpiece. The descriptions of the lives and the culture of this two-dimensional being are very well-thought and their problems when they face this hypothetical and crazy third dimension, are perfectly transcribed.
The link with our universe is easily (really?) transposable. After all, I remind you that many modern physical theories confer to our universe ten dimensions… or more for some of them!
What do you think about that? Can you imagine the shape of a four-(or five- or six-)dimensional hypersphere emerging in your everyday life? No? So, I hope that you won't laugh too much by observing those poor creatures on their planar world.
Another dimension (no kidding) is interesting in this novel, that is to say the Victorian society criticism, notably the woman's place. Indeed, by caricature, Edwin Abbott speaks about the not very tempting feminine condition, relegating women in the two-dimensional society's margins. They are only Segments, weakly intelligent, just able to take care of the house and their progeny. Description which might have ring a bell to the English women of the end of the XIXth century!
Notes
An animated movie for education had recently (in 2007) been produced (with the voices of Martin Sheen, Michael Yor and Kristen Bell)
To know more : www.flatlandthemovie.com
The following video is an animated film by Timm Andrews, on an audio excerpt of Cosmos, by Carl Sagan. It clearly explains the book's concept : the life in the two dimensions and the encounter with the third one.