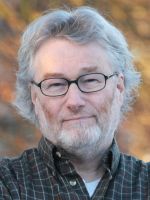 Birth : 16 February 1954 in Dunfermline (Scotland)
Death : 9 June 2013 in Kirkcaldy (Scotland)
Iain Menzies Banks was a Scottish writer who did his studies to the Stirling University in the fields of English literature, philosophy and psychology.
Very politicized, he took largely position for Scotland independence.
Passionate by the writing since his earliest childhood, Iain M. Banks had published as in the field of science fiction (under the name Iain M. Banks) as in the general literature (under the name Iain Banks).
His first novel, The Wasp factory, is published in 1984 and meet a positive welcome from the criticism. But it's mostly with his Culture series that the author became famous. This galactic society, anarchic, hedonist, without any currency, high-tech, where all the species – organic or artificial – are welcome, serves as background to nine novels and a few short stories.
Iain M. Banks passed away on 9 June 2013, at 59 y.o., from a gallbladder cancer.
For the records, an asteroid – 5099 Iainbanks – bears his name since 23 June 2013.
Bibliography (S.F. works)
The Culture series :

Consider Phlebas, 1987
The Player of Games, 1988
Use of Weapons, 1990
Excession, 1996
Inversions, 1998
Look to Windward, 2000
Matter, 2008
Surface Detail, 2010
The Hydrogen Sonata, 2012

Other novels :

Against a Dark Background, 1993
Feersum Endjinn, 1994
The Algebraist, 2004

Collections :

State of the Art[1]Contain three short story from the Culture series., 1991