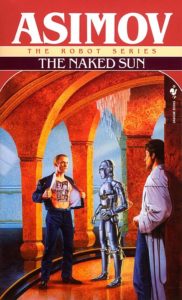 © 1957 – Isaac Asimov
The story
After his exploits on Earth[1]See The Caves of Steel., here is our favourite inspector again on Solaria, a Spatian planet where the phobia of others reach its climax: individuals meet the others only by holo-video, marital relationship being done very rarely in a mutual aversion feeling. A planet where the density of robots is the highest of the galaxy.
This is in that incomprehensible society that inspector Baley have to solve a murder which can't have been perpetuated, Solarians couldn't even imagine beeing with another person.
The only possible suspect is the wife of the deceased, Gladia Delmarre, who can't have commit the murder neither. More of that, a robot has been found on the crime scene, disturbing clue in a society which is completely dependant on them.
Inspector Baley will need all his genius to solve this inextricable enquiry and especially not to succumb in front of the vastness of the exterior and to face off the naked sun.
Notice that this novel was adapted for the television in 1969 as an episode of the British anthology series Out of the Unknown.