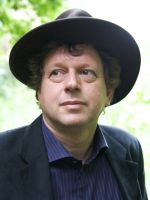 Birth : 2nd March 1960, in Rutland (Royaume-Uni)
Official website: www.peterfhamilton.co.uk
Peter F. Hamilton is a British science fiction writer who made scientifical studies, without terminate university because he had to work very early in a factory and to deal with his ill mother.
Reading a lot of science fiction work when he was young, he begins to write in 1987 short stories of this genre which he will publish in some magazines. In 1993, his reputation increases with the publication of what will be his first trilogy (Greg Mandel Books): Mindstar Riding, followed shortly afterwards by A Quantum Murder and The Nano Flower.
But it's in 1996 that Hamilton signs the first volume of his masterpiece: The Reality Dysfunction, which forms with The Neutronium Alchemist and The Naked God, the huge half-S.F., half-fantastic novel Night's Dawn.
After that, the success come one after another with some novels like Fallen Dragon, then the Commonwealth saga, followed by the Void trilogy, as many stories which place Peter F. Hamilton in the rank of the uncontested masters of modern science fiction and space opera.
Bibliography
Greg Mandel Books


Mindstar Rising, 1993
A Quantum Murder, 1994
The Nano Flower, 1995

Night's Dawn trilogy

The Reality Dysfunction, 1996
The Neutronium Alchemist, 1997
The Naked God, 1999

The Commonwealth saga

Pandora's Star, 2004
Judas Unchained, 2005

The Void trilogy


The Dreaming Void, 2007
The Temporal Void, 2008
The Evolutionary Void, 2010

The Chronicle of the Fallers


The Abyss Beyond Dreams, 2014
Night Without Stars, 2016

Fallen Dragon, 2001
Great North Road, 2012
The Queen of Dreams, 2014
Short stories collections

A Second Chance at Eden, 2005
Manhattan in Reverse, 2011