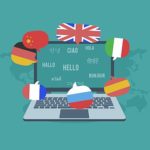 I don't know if you've noticed but, recently, my site has become multilingual. In my stats, I've observed that the majority of my visitors was abroad (I'm french), so I decided to propose an english version of my articles to my readers.
However, I am not very fluent in english and it could occur that some mistakes (obvious or more subtle) may slip in my articles. So I'd been very grateful if you could notify them to me, either with the "contact" page or with a comment in the articles themselves.
I thank you in advance.