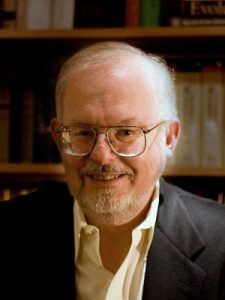 Birth : 20th august 1951 in San Diego, California
Officiel website : www.gregbear.com
Born in 1951 in San Diego, he'll obtain his Bachelor of Arts diploma in 1973 from San Diego State University. He was by turns reporter, drawer, bookseller and technical consultant for television (Prophets of Science Fiction, The Twilight Zone). In the S.F. field, he is mostly known to be a hard science writer, even if he made some incursion in fantasy (The Serpent Mage) and horror (Psychlone).
His writing career begins relatively early (he starts writing at 13 y.o.) and his first short story, Destroyers, was published in 1967 even though he wasn't adult. But it's in 1983 that his career take off when he received the Hugo and the Nebula awards for his short story Bloodmusic which will be novelized in 1985.
It's also in 1985 that he'll confirm his writing talents with his novel Eon, followed in 1988 by Eternity, which form, with Legacy (1995) his most famous and popular trilogy.
We can notice his frequent collaborations with David Brin and Gregory Benford, notably for one of the sequels of Foundation (by Isaac Asimov). The three of them are affectionately nicknamed the group of « Killer B's ».
Bibliography
Eon series :

Eon, 1985
Eternity, 1988
Legacy, 1995

Queen of Angels series :

Queen of angels, 1990
Heads, 1990
Moving Mars, 1993
Slant, 1997

Prequel series to Queen of Angels :

Quantico, 2005
Mariposa, 2009

The Forge of God series :

The Forge of God, 1987
Anvil of stars, 1992

Darwin series :

Darwin's Radio, 1999
Darwin's Children, 2002

Foreworld series :

Mongoliad Book 1, 2012
Mongoliad Book 2, 2012
Mongoliad Book 3, 2013

Star Trek series :
Other novels : (in chronological order)

Hegira, 1979
Psychlone, 1979
Beyond Heaven's River, 1980
The Strength of Stones, 1981
The Infinity Concerto, 1984
Bloodmusic, 1985
The Serpent Mage, 1986
Sleepside Story, 1988
Man-Kzin Wars, 1991
Foundation and Chaos, 1998
Dinosaur Summer, 1998
Vitals, 2002
W3 Women in Deep Time, 2003
Dead Lines, 2004
City at the End of Time, 2008
Hull Zero Three, 2011
War Dogs, 2014