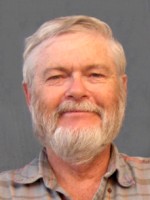 Birth : 30 January 1941 in Mobile, Alabama (U.S.A.)
Gregory Benford is a physicist, plasmas specialist, and teach physics to the Irvine University in California.
In the field of science fiction, he excels particularly in hard science. His most popular series is the Galactic Center Saga which count currently six novels.
We can notice his frequent collaborations with Greg Bear and David Brin, notably for one of the sequels of Foundation (by Isaac Asimov). The three of them are affectionately nicknamed the group of « Killer B's ».
Official website: www.gregorybenford.com/
Bibliography
The Galactic Center Saga


In the ocean of night, 1978
Across the sea of suns, 1984
Great sky river, 1987
Tides of light, 1989
Furious gulf, 1994
Sailing bright eternity, 1995

Projets Jupiter series

Jupiter project, 1975
Against infinity, 1983

Other novels (by chronological order)

Heart of the comet, 1980, with David Brin
Timescape, 1980
Shiva descending, 1980 with William Rotsler
Artifact, 1985
Foundation's fear, 1997
Cosm, 1998
The martian race, 1999
Eater, 2000
Beyond infinity, 2004
What might have been, 2004
The sunborn, 2005
Bowl of heaven, 2012, with Larry Niven

Short stories collection

If the stars are gods, 1977, with Gordon Eklund
In alien flesh, 1986